Helene Rothschild's newest book:
All You Need Is H.A.R.T.! Create Love, Joy and Abundance – NOW!
A unique guide to Holistic And Rapid Transformation
Marriage and Family Therapist, Helene Rothschild, offers us her unique, empowering method for total transformation, a system she calls HART, which stands for "Holistic And Rapid Transformation." Anyone can create love, joy, and abundance in their life and All You Need is HART! will teach you how.
We all have what it takes to reach our desired goals, as illustrated by the many case studies included in this book. Individuals will benefit from reviewing the valuable exercises and information about HART, and health professionals will be able to incorporate it into their work with clients.
Written in a succinct, heartfelt, easy-to-follow style, this book contains profound insights and solutions that will continue to benefit readers for many years. All You Need is HART! is truly a "Manual for Life" that contains the solutions necessary to help anyone create what they desire in their personal and professional lives.
"The keys to life are in your hands," says Rothschild. "There is no need to search out there for answers anymore, they are inside of you!"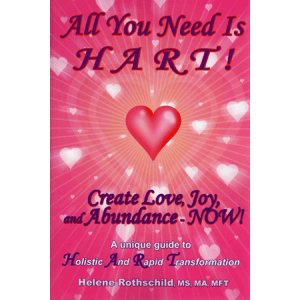 The topics covered include:
Raising Self-Esteem
Seven Major Keys to Success
Overcoming Addictions
Dare to be Prosperous and Slim
Healing Your Body
Enhancing Romantic Relationships
Enjoy Your Sexuality
Successful Parenting
Empowering Communication
Releasing Anger
Balancing your Life
Career Guidance
(ISBN 1-931741-72-7; size: 6 x 9; soft cover) is published by Robert D. Reed Publishers. The price per book is $14.95, plus $3.95 for shipping and handling. It is also available from all bookstores and online here.
Scroll