San Jose Marriage and Family Counselor
Contact Helene Rothschild, MS, MA, LMFT
Helene Rothschild is available for international phone and in-person counseling sessions at her office near Bascom and Hamilton Avenues, San Jose, CA 95128.
Leave a message for Helene by calling toll free:
1-888-639-6390.
Kindly also send an email and your phone number below so Helene can easily contact you.
San Jose Marriage & Family Counselor serving internationally as well as local cities including Campell, Santa Clara, Cupertino, Mt. View, Los Altos, Los Gatos and Sunnyvale.
(Note: Helene will always respond to emails she receives. If you do not receive a response, kindly contact her at the above number. Thank you.)
* Required: Please include your phone number in the message. Thank you!

Get Your FREE eBook!
Gain access to the tools you need to become a healthy, happier you!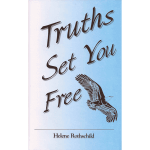 Sign up Now for our Email Newsletter (and/or local events announcements) at the bottom of the page and receive the "Truth Sets You Free" eBooklet, and "Healing Your Body" teleclass mp3.
Scroll